With the big day fast approaching, households across the UK are busy icing Christmas cakes, wrapping presents and writing their grocery lists ready for Christmas dinner.
Food is, of course, such an important part of Christmas Day but don't forget to also plan ahead and pick which festive tipples you'll be offering your guests this year. With a nation that is crazed with the current trend of flavoured gin and vodka varieties, we've asked one of our top suppliers and friends at Chase Distillery to share their recommendations on serving the perfect festive G&T or cocktail this Christmas.
Give these delicious serving suggestions a try!
---
A refreshing starter: Chase Sloe and Mulberry Gin
Take things 'sloe' to begin with and ease into the festivities with a delicious sloe and mulberry gin cocktail. This seasonal gin is delicious when paired with a lemon tonic or, if you want to really wow your guests,  follow this tasty cocktail recipe for a warming welcome drink.
For each cocktail, you will need 30ml of Chase Oak-aged Sloe & Mulberry Gin, 150ml of cloudy apple juice, freshly squeezed lime juice (about 10ml), a teaspoon of honey and 1 or 2 cinnamon stick (depending on your preference).
Depending on how many servings you are making, multiply the above ingredients by the number of cocktails and add all the ingredients to a pan on a low heat to slowly warm up until the cinnamon has infused. Once infused and warmed through, remove the cinnamon and pour the cocktail evenly into heat-proof glasses. Top up each glass with hot water and garnish with a fresh stick of cinnamon.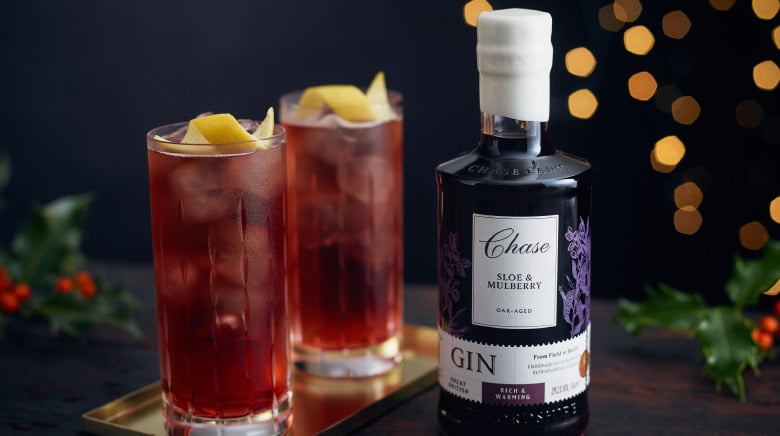 The perfect cheeseboard accompaniment: Seville Orange Negroni
This boozy cocktail is perfect when paired with a cheeseboard. The tangy orange flavours complement the chutneys and it's a great drink to gee up your guests and get the festive board games and charades started.
All you need is 37.5ml of Chase Seville Orange Gin, 12.5ml of Campari and 25ml of Sweet Vermouth. Simply add all of these ingredients to a large jug with cubed ice and stir until thoroughly chilled. Strain into a short glass over ice. Garnish with a slice of fresh orange!
The night cap: Hot Vodka Mocha
A warming drink that promises to set you up for a good night's sleep after a long day of festive celebrations. This cocktail is a sweet twist on the classic liqueur coffee.
Whilst warming up some milk, add 50ml of Chase Original Potato Vodka to a mug or coffee glass and add ½ a shot of decaff coffee, 3 tsp of hot chocolate powder and 1 tsp of honey. Once the milk is warmed through (make sure it doesn't burn) top the mug/glass up with the milk and stir until all mixed together.
Sit down with your festive PJ's and brand new slippers on, put your feet up and enjoy.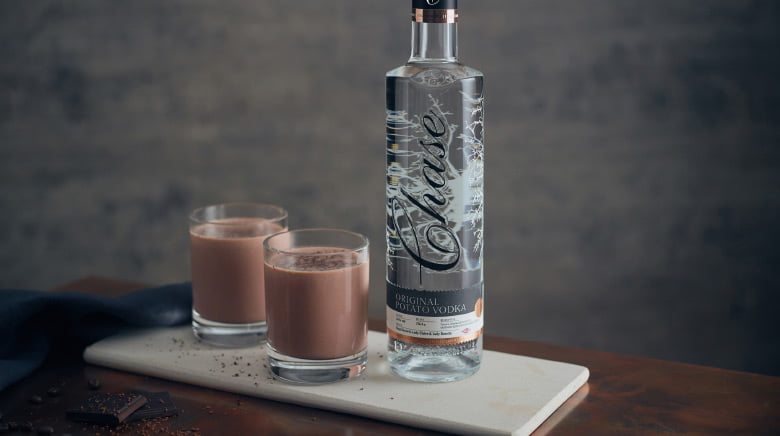 So there you have it. Three delicious cocktails to impress your nearest and dearest when you're hosting this festive season.
Chase Distillery's spirits are available to buy on their online shop, all beautifully displayed in stunning intricately designed bottles (making them fabulous for Christmas presents too). However, if you would like to try before you buy, we stock a variety of their delicious gins and vodkas here at The Cock Inn, so pay us a visit and we'll happily make you a cocktail or two. We promise you'll be converted!