As part of a family that is passionate about the authentic pub experience, we believe that being part of the local community is key to achieving this.
That's why we like to support the local community; helping to promote and support local events, fundraising for local charities and building relationships with fellow groups, teams and businesses in the area…
Upcoming Local Events
If you are hosting a local event and would like us to list it on our website, please get in touch with us at manager@cockinnheadley.co.uk
---
Local Food and Drink
We are dedicated to sourcing from British farmers and producers and using only sustainable ingredients, so we work hard to build great working relationships with our suppliers, from the gin in our perfect G&Ts and the perfect cooked steak on your plate, to the oil in your salad and the ice cream to satisfy your sweet tooth.

We are also proud members of Surrey Hills, further championing local ingredients and craftsmanship, working together with the county to promote local ingredients and fantastic talent this county has to offer.
---
Local Charity
Rainbow Trust supports families who have a child aged 0-18 years with a life threatening or terminal illness and need the bespoke support we offer.
Today there are an estimated 49,000 children and young people in the UK living with a life limiting or life threatening condition who may require palliative care (University of Leeds, 2011). Many of these children and their families are able to cope or are not in a 'crisis situation'. However, thousands of families have to face the very real possibility that their child may die and struggle to cope on a day to day basis.
The Cock Inn is proud to support Rainbow Trust Children's Charity through a number of initiatives at the pub, and throughout the company…
Kids Menus
Being a family friendly pub, we often have lots of little ones visiting us who dine from our Kids Menu. Therefore, we donate 50p of every child's meal sold, to Rainbow Trust.
Charity Challenge
In July 2017 our Charity Challenge saw a 16-strong team take on the 3 peaks challenge which has raised over £12,000 for Rainbow Trust and Hampshire and Isle of Wight Air Ambulance.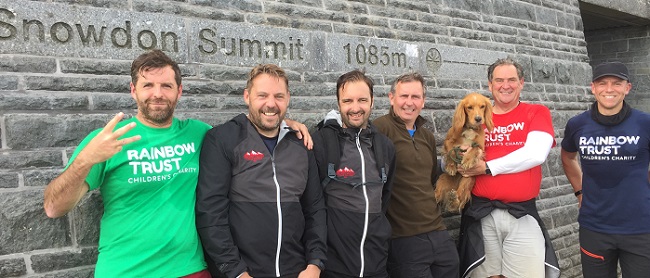 How can you support Rainbow Trust?
To find out more about how you can get involved and fundraise for Rainbow Trust, take a look at their website today.
---
Red Mist Ale
We have teamed up with Tilford Brewery near Farnham, to create our own recipe ale, Red Mist, and we donate 20p from every pint sold at The Cock Inn, to Help for Heroes. HFH have a Defence Medical Rehabilitation Centre just down the road from us at Headley Court, so when you take a sip, you're also doing your bit for charity!