Behind every pub, is a great Pub Manager…
From ensuring our customers happiness and enjoyment, to working closely with our suppliers to offer the freshest local ingredients on our menus; a Pub Manager is a vital part of keeping any good pub ticking and we're thrilled to introduce you to our new manager, Claudia.
In March 2018, we were delighted to welcome Claudia Stirling to The Cock Inn, as our new Pub Manager. Do not fear, we are not waving goodbye to our beloved previous manager, Danni, as she has moved to our sister pub, The Queen's Head, to take on a new project but will still be popping her head in now and then.
Despite being a new face at The Cock Inn, Claudia is very familiar to our sister pubs, after being Deputy Manager at The Exchequer near Fleet and then being promoted to Pub Manager at The Stag on the River in Godalming. Having previously worked in the hotel industry, The Stag was the perfect fit for Claudia and is very much loved by the locals there. However, having now moved closer to The Cock Inn, she is delighted to have a new team at an exciting pub and is looking forward to meeting all of our lovely customers.
We took some time to get to know Claudia, so carry on reading to find out more about her…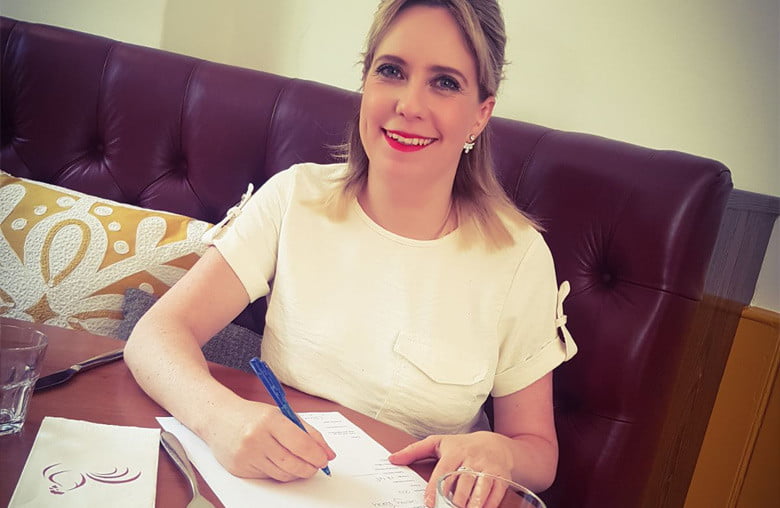 What was your dream job when you were growing up?
I wanted to ride in the Grand National steeplechase. I could never stop my pony when I was young, so thought I could use that to my advantage. Plus I'm very short!
What would you say is your biggest achievement so far?
I've been lucky enough to work for some amazing people and in some incredible places, but my greatest achievement would be my daughter; she's also my toughest boss yet!
What's your favourite thing about British Pubs?
Where do I start? Real ales, log fires, Sunday roasts, regular locals, to name a few… its not something you can find anywhere else in the world.
What is your favourite classic pub dish and why is it your favourite?
Without a doubt it has to be a Sunday roast with beef and all the trimmings.
If you could invite anyone in the world to come and dine at The Cock Inn, who would you invite and why?
I would invite Mary Berry, Marilyn Monroe and Queen Elizabeth I to dine at the pub. It's a bit of an odd mix, but all are very inspirational women!
What's your signature drink that your nearest and dearest know to order for you?
You cannot go wrong with a nice pot of English breakfast tea… or a vodka!
What is your favourite movie of all time?
I don't really have a favourite film… I love period dramas and war films, but nothing too scary and definitely not horror films – I'm a real wimp with those.
Do you have any hobbies/passions outside of work?
I ride my dressage horse who I have had for years and adore.

Is there a place/attraction nearby that you've been to that you would highly recommend?
We are so lucky to be on Box Hill, so literally are surrounded by some of the most beautiful countryside views I have ever seen. I would highly recommend parking the car up and heading out for a long walk to blow out some of the cobwebs, before paying us a visit to enjoy a delicious meal with us at The Cock Inn.
What is your favourite dish on the Cock Inn Spring Menu?
The Classic burger, it ticks all the boxes!
---
Come and meet Claudia for yourself and enjoy a delicious meal from our menu at The Cock Inn.